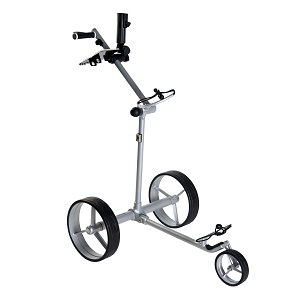 MC304LM is one of the most classic golf trolleys of HighDegree, which is a derivation model of MC304LS built with straight tubes. It has been well-sold in the global market especially in European countries for more than 10 years. The MC304LM is made of Aero-grade aluminum alloy which enables a stronger structure. Dual high torque 42mm slim motors and quality German gears are hidden inside the heavy-duty aluminum tube axle combined with a high-performance lithium battery which provides you enough power to travel 36 holes in the most favorable conditions. All cables are hidden away inside the chassis for absolute maximum waterproof design. Even the battery tray was removed and replaced with a battery cable extension so you can slip your battery into a pouch on your bag. Also, a golf trolley battery basket is available if you choose to mount the lithium battery to the frame of the trolley. The downhill braking gives this electric golf caddy an advantage. It does not run away on the downhill slopes. Turning the speed dial back slows the cart down so that it does not pull you down the hill. The MC304LM adopts a smart quick-fold design, which enables it can be folded within 10 seconds. This easy-carry trolley is very popular with advanced golfers.
Features:
•Variable Speed Control with "last speed memory"
•Distance Control Function: Send cart out on 10 Second Timer
•Aircraft-grade aluminum frame structure – frame weighs only 18 pounds
•Adjustable handle to fit any golfer: 36″ when level, 45″ max-height
•Integrated high torque motors and step gears
•24 Volt, 9Ah/12Ah Lithium-Ion battery – 2.75 pounds, battery charger
•Battery charges in 3-4 hours after a round, good for up to 36 holes on a single charge
•Two Year Warranty on Battery
•Battery rated at 500 plus charging cycles
•42mm Slim Motors with German gearboxes, controller, and all cables hidden inside the frame
•Quick and easy transition to "Free Wheel" mode
•Oversized drive wheels for better control
•Available in white, black, or traditional Silver – Powder Coated Frame
Dimensions:
Assembled weight: 28 lbs. (w/ battery, and included accessories)
Frame Weight: 21.5 lbs.
Battery weight: 2.75 lbs.
Folded dimensions:
•Without drive wheels: 25.5" wide x 31.5" long x 11" tall
•With drive wheels: 26.5" wide x 35" long x 12" tall