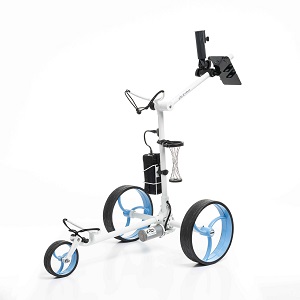 The MC301DM is one of the successful electric golf trolleys, which is made of aero-grade aluminum alloy. It has a clean, plastic-free design with hidden cables to resist water and mud. Its extraordinary lightness (8.3 kg for the trolley and 1.3 kg for the battery), the cruise control with the distance function, and its oversized rear wheels guarantee a very pleasant and restful use. MC301DM has cruise control with memory that makes it easy to go up and down at a constant speed without having to readjust the potentiometer every time. The LED push button allows you to start and stop the car with a preset speed or to choose the distance control function. It also has an electromagnetic motor brake to stop the car on steep slopes with greater comfort. The trolley can be folded extremely easily and quickly and its rear wheels have an instant disassembly system, achieving astonishingly low transport measures. The 24V working system combined with a 180W differential motor provides enough power for your working golf tour.
FEATURES
•Heavy-duty aviation aluminum folding frame
•Ultra-quiet motor with amazing power and torque and new gearbox with differential Up
and down speed programmer with"last speed memory"
•Exceptional balance and stability.
•Adjustable double handle for right and left hand
•Mono front wheel adjustable axle arm
•Distance control function.
•Instant switch to "Freewheel" mode with oversized wheels for better control
•Ultra-light lithium-ion battery, which is hidden in the club bag
•Optional accessories: Battery holder, Cardholder, Drink holder, and Rotating umbrella holder
Technical data:
Motor: 24V 180W
Battery: 24V 9AH/12AH Lithium Battery
Autonomy: up to 36 holes in the most favorable conditions.
Dimensions:
Folded trolley with mounted rear wheels (cm): length 80, width 51, height 30
Folded trolley without mounted rear wheels (cm): length 69, width 50, height 21 Weight of trolley without battery: 8.3 kg
Cartons dimension: 86x58x35CM