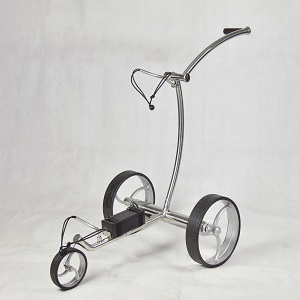 The innovative MC314TS® is the signature product of High Degree stainless steel lithium electric golf trolley, which adopts the plug-in system in the trolley. It can be disassembled by using the proven plug-in system. This product's innovative design enables an ultra-compact packing size of only 64x32x17cm (LxWxH) when dismantled, which means the trolley fits in almost every boot when dismantled. Packed in the included carrying bag, the MC314TS is perfect for a golf holiday by car. The easy-to-handle plug-in system allows MC314TS to be dismantled in less than 20 seconds. MC314TS has two 62mm motors with quality gearboxes and weighs less than 9.2kg. The thinner high-tech drive ensures very quiet operation and strong power. Furthermore, MC314TS is equipped with electronic downhill and parking brake as well as a distance function. These innovative functions make the golf tour more leisurely and convenient. Also, it ensures a safe operation. The MC314TS in a classic straight design is made of stainless steel and is offered with various surface finishes. Also available in a clean design with straight tube MC314TM
Features:
•Simple ergonomic operation via potentiometer and start/stop button
•high-quality stainless steel golf trolley
•Quick-fold enables very easy folding due to the special quick-fold frame design
•Innovative plug-in system for dismantling the trolley
•Booster Lithium-Ion battery weight only 1.2kg
•Lithium Charger
•Driven by two wear-resistant 45mm tubular motors
•LED display on/off as well as warning display for battery
•With electronic downhill brake and parking brake
•Distance function 10 and 20 sec
•individually height-adjustable handlebar with high-quality handle
•The battery is carried in the golf bag, advantage no contamination (alternative use of the optional battery holder)
•wide easy-running wheels with freewheel function
•Drive wheels are very easy to remove with a click-lock
Dimensions:
•Folded packing size: 66x65x16cm (LxWxH) without drive wheels
•Packing size disassembled: 64x32x17cm (LxWxH)
•leather handle
Weight approx. 8.9kg without battery
Available in a clean design with straight tube MC314TM.