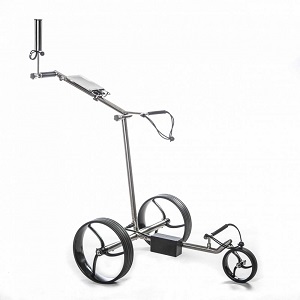 The brand new MC701 Titan is one of the lightest electric golf trolleys on the market with just 5.8 kg. By using the plug-in system and quick-fold system, the golf trolley can be dismantled and folded. Due to the quick-fold frame design, the MC701 can be easily folded in less than 10 seconds. The easy-to-use plug-in system allows the MC701 Titan to be dismantled in less than 30 seconds. Compared to normal trolleys, the MC701 Titan has two slimmer 35mm motors with quality German gearboxes. The thinner high-tech drive provides a very quiet operation. Furthermore, the MC701 Titan is equipped with electronic downhill and parking brake as well as a distance function, which brings you easier control and leisure golf tour.
Features:
Titanium frame: The material titanium makes the MC701 golf trolley a lightweight and strong structure. The brushed surface gives the trolley a very noble appearance.
Lightweight: At just 5.8 kg, the MC701 Trolley is currently one of the lightest electric golf trolleys on the market.
High-performance BMZ Lithium-ion battery: The BMZ 10Ah battery can provide you enough power to win all 36 holes in your walking golf tour!
Smooth-running wheels with freewheel function: Made of high-quality German nylon, the aesthetic design of the wheels gives the golf trolley a very special look.
Convenient click system: The MC701 can be quickly and easily dismantled into small individual parts in just a few steps (pack size: approx. 66 x 35 x 16cm).
Quick-fold function: The MC701 Titan Golf trolley has a quick-fold function that can save much space and be portable.
Height-adjustable handles: The golf trolley embodies maximum individualization. The handle height can be adjusted in several steps to suit your body size.
Speed control: The continuously adjustable speed control is representative of the user-friendliness of the MC701. The potentiometer provides very easy control of speed.
Speed Memory: When restarted, the MC701 automatically selects the last-used speed.
Distance control: The trolley runs at two different intervals (10 or 20 seconds) at the push of a button and then stops automatically.
Downhill Brake Control: Use the cruise control to brake the trolley if necessary and adjust it to slower speeds when going down hills and over-speed situations, which ensures safety.
Quality drives: The high-quality 35mm drives Made in Germany meet even the highest demands and contribute to the slimmest frame!
Specifications:
•Simple ergonomic operation utilizing the potentiometer and start/stop button
•High-quality titanium frame and Leather handle
•Quick-fold system, enabled by special Quick-fold frame design and an innovative plug-in system for dismantling the trolley
•Booster 10ah Lithium-Ion Battery and Lithium Charger
•Driven by two low-wear 35mm tubular motors
•LED display on/off and battery warning indicator with electronic hill braking and parking brake inside
•Individually height-adjustable handlebar with high-quality handle
•The battery is carried in the golf bag, advantage no contamination
•Wide, smooth-running wheels with freewheel function, drive wheels can be removed very easily via click lock
•Pack size folded: 66x65x16cm (LxWxH) without drive wheels
•Pack size disassembled: 66x35x16cm (LxWxH)
•Weight approx. 5,8kg without battery